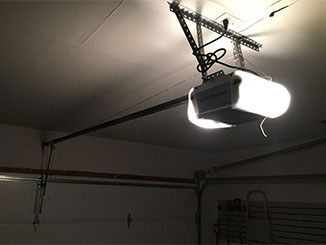 It doesn't matter what type of opener you have, our professional technicians have the skills and the experience required to fix issues with all three different drive systems. Whether it's a mechanical malfunction or an electric one, you can always rely on us to quickly solve the problem. Misaligned safety sensors, fried circuit boards and broken motor gears are just a few of the different parts we can easily replace for you.
Three Main Types
Modern garage door openers can be divided into three different categories, based on the type of drive system they use. Chain drive units offer the benefit of being very strong and affordable; however they also happen to be the loudest of the three. Belt drive models are incredibly quiet, which makes them ideal for homes with an attached garage. Their main downside, though, is their price. They tend to be more expensive than their counterparts. Screw drive opener models are faster and require very little maintenance. Although not quiet by any stretch, they aren't as loud as chain drive models. However, they can be affected by drastic temperature shifts.
Making The Choice
There are a lot of things to consider when it comes time for opener replacement, not just which drive system is right for you. The amount of horsepower your new device will need to generate is a major consideration, as are the different special features that it could offer. Smartphone connectivity and a backup battery system are incredibly useful, and often can be worth the upgrade all on their own. Our experts will be happy to consult you during this process and make sure that you find the best possible opener for your home.
Experts At Your Service
From opener repair to installation, there is no task that our technicians can't assist you with. Contact Garage Door Repair Ashland today and let us help you with whatever you need.
When it comes to your door, we don't settle! We also offer:

Garage Door Off Track Repair

Garage Door Tune Up Services

Screw Drive Opener Replacement

Garage Door Extension Spring Replacement