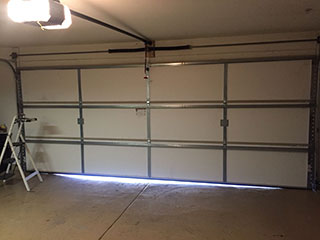 Let's face it, upkeep is a chore and nobody enjoys doing it. But like brushing your teeth and servicing your car, very few people have a choice in the matter when they have strong yet heavily used appliances at home. Garage door maintenance is no exception to this rule.
Protecting Your Door

The first step to ensuring that you won't need major repairs any time soon is to ensure that the parts and components are properly protected from any elements that could tarnish them. For instance, ensure that the doors themselves are coated with a protective agent such as paint or varnish. Galvanic corrosion can pose a significant threat to the metallic parts in your system, as will rust, so keep a close eye on each part to ensure that it isn't aging rapidly.

Carry Out Regular Maintenance

You should carry out regular lubrication maintenance to ensure that friction doesn't wear down your moving parts and that every element in your system is secured properly in place. It's also wise to keep your garage door clean enough so that nothing obstructs the tracks.

Replace Parts Before They Fail

Components under considerable stress such as the springs, safety cable, and bearings should be watched closely for signs of stress or cracking. These essential functionality and safety components should always be replaced before they break if it can be helped. This will help to assure that your system poses no danger, and doesn't risk becoming imbalanced, which could hamper its health and performance.

Have a Trusted Technician Handy

Accidents do happen from time to time, and when they involve your garage door, there could be serious ramifications for your safety as well as overall system health.
So if your door gets damaged, you'll want to get it repaired as soon as possible. For this reason, it's a good idea to find a local technician that you can rely on to take a look before the damage worsens.