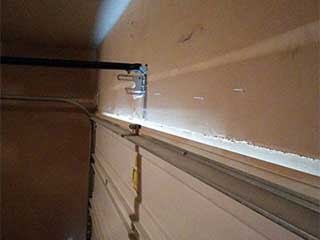 Your garage door slides open and swings shut again, almost effortlessly. But behind those smooth movements there is a great deal of pent-up power – and that power comes in part from the springs. These components provide power by storing tension within tightly wound coils, and releasing the tension when placed under pressure.
Difference Between Torsion & Extension Springs
Modern garage doors will make use of either torsion or extension springs, installed and utilized in different ways. A torsion spring usually lies across a bar horizontally above the door – as the bar rotates, the spring twists, and the door is raised as a result. Extension springs are usually installed on either side of the door, and will stretch and recoil as the door closes and opens. Springs operate by creating and releasing pressure, and are in use every time your garage door gets operated. This everyday exertion can lead to dangerous wear and tear.
Importance Of Regular Maintenance
Power is unpredictable, and springs are no different. By using tension to lift and lower a heavy garage door, torsion and extension springs are playing with pressure levels – and this can make them susceptible to problems. Regular maintenance is your best bet: our professional technicians recommend calling in an expert to examine your springs for signs they may be taking undue strain. We can apply lubrication and make adjustments as needed.
Why Are Springs So Dangerous?
DIY is part-and-parcel of being a homeowner, but your garage door is a complex piece of machinery that should be examined and repaired by an expert. Both torsion and extension springs store a great deal of pent-up force within their coils, and when they break, they behave in unforeseeable and dangerous ways. A cracked spring may go flying in all directions, while a worn one could cause your garage door to rise or fall rapidly. Either of these situations could cause injury to people. In summary, these components require a seasoned eye and a steady hand, and our technicians have the training required to handle these sensitive components with the proper care.
You Can Count On Us
Are you looking for an effective garage door maintenance plan for your springs– or do they need urgent replacement? Our reliable experts at Garage Door Repair Ashland are here to help. Call us today.
We also offer the following:

Oil Tempered Torsion Springs

Garage Door Safety Inspections

Emergency Garage Door Services

Opener Sensor Repair & Replacement