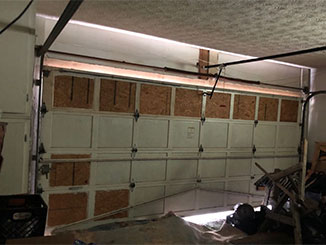 Our expert team is ready to help you with any garage door problem you're experiencing. Our technicians have more than a decade of experience helping homeowners deal with issues quickly and without hassle, so whether you have a bent track or a broken spring, we'll be able to help. Here are just a few of the different repair services we provide.
Opener Circuit Board Issues
Garage door openers are complex pieces of equipment, and it's often difficult to work out exactly what's happened when a unit breaks down. Faulty circuit boards are very difficult to identify since there are so many different problems they can manifest as - strange door behavior, failure to open and even a door that keeps reversing (which is often attributed to misaligned safety sensors) can be the result of a problem with your opener's circuit board. Our team will quickly remove the old component and install a new board in its place, carefully calibrating it to ensure it is set up properly and programmed with your remote.
Bent Track Repair
Garage door tracks need to be as smooth as possible to reduce wear. However, these components can become dented or bent over time, leading to many further issues. It's important to have them repaired as quickly as possible; while it may be possible to bend them back into place, it's often more reliable simply to replace them, provided that the damage is extensive enough. This guarantees you'll have a strong, sturdy set of tracks for your rollers to move along, which will allow your door to open and close smoothly.
Broken Spring Replacement
The heavy-duty components that support your panels and counterbalance it will gradually weaken over time. If you notice your door beginning to sag or wobble, or if a spring breaks altogether, you'll need to have it replaced as soon as possible. Our team will work quickly to secure your door, then remove the damaged unit and replace it with a high-quality new one. We strongly advise that if your springs are wearing out you don't try to work on them yourself; they can be extremely dangerous, and it's much better to contact our team for assistance.
Get In Touch With Us Today
No matter what problem you're experiencing, our team is ready to help. No job is too big or too small; contact Garage Door Repair Ashland today to find out what we can do for you. Our service area is wide, and you can always count on us or our partner company near Natick to help when problems occur. Garage door not closing completely? There's always someone to call.
You can also count on us for:

Opener Sensor Replacement

Extension Spring Adjustment

Garage Door Tune Up Services

Broken Garage Door Spring Replacement